Have you engaged in integrated construction marketing communication?
In my blogs, I often stress the need for integrated marketing communication or IMC. Generally, this practice involves your marketing strategy, lead generation campaign, and sales program. You must integrate all three of these elements of business growth for them to be truly effective. However, in this blog, I'm taking this concept of integration a bit deeper. Your marketing needs to be integrated throughout your company for it to connect with customers, both current and potential. Now let's look at integrated construction marketing communication or ICMC and its value to your business.
Integrated construction marketing communication and your team 
Implementing ICMC is essential to creating a brand. However, it's not just through your sales and marketing program. First, they must understand who you are as a company. In other words, your brand. If your staff and crew aren't representing your brand, you are fighting an uphill battle.
How ICMC works with your team
For example, I was on the job site of a client, and I overheard a site supervisor telling a worker to redo a window they were putting in place. When the worker protested that it was on slightly off, the supervisor quoted the company slogan to show that somewhat off wasn't good enough to meet the company standards. By informing the supervisor of the company brand, it carried through to the quality put into the work. When your integrated construction marketing communication reinforces your brand, your employees will carry it through to exceptional service, craftsmanship, and customer support.
ICMC and customers
Often, an owner assumes that customers are aware of everything the company provides. This assumption can be costly. The reason is because without regular contact with customers, they can't know about the new services you may offer. This lack of communication results in less repeat business.
How ICMC works with customers
When a construction marketing client of mine purchased a laser screed for concrete work, they needed to recoup the expense. With a campaign to promote the new service to customers, the client secured projects to help defray the cost. Additionally, the campaign expanded to offer the service to other contractors to become another profit center.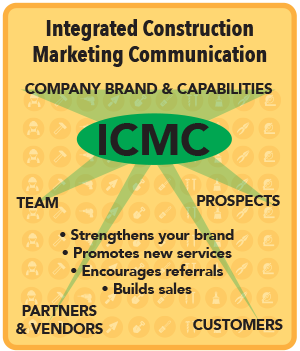 ICMC with your partners and vendors
Excluding this group from your integrated construction marketing communication, means they can't refer your new services or help the build your brand. When you make use of this network, sales grow.
How ICMC works with partners and vendors
Your strategic partners and vendors have customers and connections you may not. Consequently, they can be a cheerleader for your company. However, you need to educate them about your brand to ensure they are spreading the correct cheer. This tactic will enhance your brand and sales.
Integrated construction marketing communication and prospects
It should be obvious why potential customers need to be part of your ICMC plan. After all, it is the primary reason you implement an integrated construction marketing communication.
How ICMC works with your customers
From lead generation to awarded projects, your brand and the message it sends give prospects reasons to contact and choose your services. When you do not engage in integrated construction marketing communication, you are not differentiating from competitors and placing your company at a disadvantage. This fact is especially relevant when the price is a critical factor, as it often is in construction projects.
How to implement an ICMC plan
There are many reasons an integrated construction marketing communication program is vital to the success of your company. Repeat business, referrals, and new projects all contribute to growing your sales. In addition, these activities also build your brand and reputation. But one plan will not work for all your targets. You need to consider potential customers in all your lead generation and sales channels to make the most impact. These strategies include prospecting, networking, social media, the Internet, and traditional forms of advertising. However, you can use less costly means to reach your team, customers, strategic partners, and vendors. Develop an internal newsletter that focuses on what is happening in your company, such as new equipment, staff, or projects to keep this group informed. Social media is also a cost-effective way to communicate news to this group.
About the Author
Paul Kowalski (or Pappy as he is called around the office) spent over two decades working at other agencies before opening Conach Marketing Group in 2008. The early part of his career was working with Fortune 500 clients at different agencies. However, working with smaller clients was his preference. This choice was because of the impact on a client's business growth and forming closer, personal relationships.
About Conach
When he was creating Conach, his goal was to bring those Fortune 500 strategies along with years of B2B marketing experience to small business marketing clients. As a result of focusing on business to business marketing, Conach specializes in construction marketing, financial marketing, and industrial marketing. Even though we are in Mid-Michigan, Conach provides marketing services to clients across the country.
For more information, visit conachmarketing.com or contact us or call 989.401.3202.