Outsource or in-house prospecting for industrial marketing?
Whether you run a job shop or an OEM company, a steady stream of leads is critical to your business's growth and ongoing success. Many of our manufacturing clients have an in-house sales team. However, they use our prospecting call services for the all important step in sales – finding the qualified and correct contact. While their salespeople could be prospecting for industrial marketing purposes, they don't seem to make the calls. Why? The reasons could be because of a lack of time, training, or motivation. Regardless of the reason, a prospecting campaign is a critical first step in finding new business. If you're thinking of jumping on the in-house prospecting for industrial marketing bandwagon, read through the following negative factors beforehand.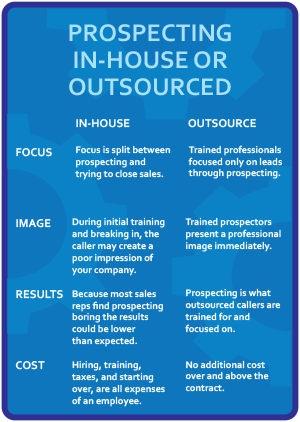 Focus
Prospecting for industrial marketing often keeps in-house sales members so busy that they end up compromising on the work that drives direct revenue – closing the sale! Because your teams' focus is entirely on sales prospecting, you won't be able to close as many bids. Moreover, pushing them to juggle all the tasks in the sales process decreases productivity levels. Outsourcing the prospecting calls allows your sales team to remain on task and win more projects.
Image
It must be remember, the first contact with your customers is often prospecting for industrial marketing. When your sales person is new and uncomfortable with prospecting, the recipient can sense it. This lack of poise will give the impression that your company doesn't have the proper knowledge and is unprofessional and unreliable. For this reason, you should consider professional prospecting companies that have experienced callers available.
Results
In general, the majority of sales representatives find prospecting to be boring and tedious. Given this fact, it is hard to get them to make the calls – no matter how good you are at managing. Even if they make the prospecting calls, chances are they won't put in their best effort. As a result, you lose the opportunity to find bid possibilities. Professional callers are trained and paid to do one thing – prospecting for industrial marketing.
Cost
When you do the math, hiring a person only to do industrial marketing prospecting will cost you more than outsourcing the service. The cost to hire and train a prospecting salesperson will far exceed the price of contracting an outside professional. Plus the fact that the results with a professional prospecting firm should far exceed a less experienced caller.
To prospect or not to prospect
Many of our manufacturing clients come to us because, after years in business, their sales growth has stalled. In the event that your company has hit that dreaded sales ceiling, you need to begin prospecting. While you may be using search engine marketing to draw people to your website, it is still not as proactive as a call campaign to find new business. The question remains if you perform it in-house or contract an outside company. As evident from the points in this article, to avoid the risk and cost of in-house prospecting for industrial marketing, the ideal way is by using an outsourced prospecting solution!
About the Author
Paul Kowalski (or Pappy as he is called around the office) spent over two decades working at other agencies before opening Conach Marketing Group in 2008. The early part of his career was working with Fortune 500 clients at different agencies. However, working with smaller clients was his preference. This choice was because of the impact on a client's business growth and forming closer, personal relationships.
About Conach
When he was creating Conach, his goal was to bring those Fortune 500 strategies along with years of B2B marketing experience to small business marketing clients. As a result of focusing on business to business marketing, Conach specializes in construction marketing, financial marketing, and industrial marketing. Even though we are in Mid-Michigan, Conach provides marketing services to clients across the country.
For more information, visit conachmarketing.com or contact us or call 989.401.3202.