Marketing on a shoestring small business marketing budget
The most common issue that most small business face is the small business marketing budget. Even though small business or new start-ups have small budgets it doesn't mean they don't have big goals. When cash flow is low, the first cut in the small business marketing budget is usually marketing. Well, let me tell you that will do your business more harm than good. Marketing is essential for the growth of any business, reducing or stopping it will dig a hole so deep that may be impossible for your company to dig out.
Because we are an agency that specializes in working with small B2B clients, we know something about stretching restrictive marketing budgets. The following are some marketing cost-effective and affordable methods suitable for small businesses with budget constraints.
Collaborate
Collaboration is an effective and tested method for efficient to stretch a small business marketing budget. First, find a group of businesses that are aligned with your product or services. Next, devise a plan to cross promote your companies. As a result, you will gain more visibility with a wider audience and vice versa.
Network
Networking has been a traditional form of marketing since the beginning of time. Because it produces solid results, it is an essential way to build a business. With this in mind, you need to choose organizations that your potential customers would join. These organizations could be Chamber of Commerce, Associations, or Lead Groups. Keep in mind that sitting on boards is a great way to network while contributing to the group.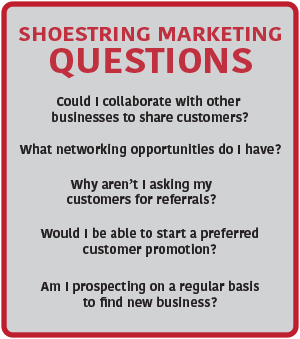 Referrals
Referrals are great for gaining new costumers, so seize the opportunity and ask for your customers to refer you. Even happy clients could need a reminder that you are looking for new business. Because of this, put a program in place to reach out to them periodically to ask for referrals. Most customers should be willing to fulfil this request, but if more incentive is needed, consider a referral program that rewards customers if you get a new one from their recommendation.
Promotions
Business-to-business marketing often doesn't lend itself to discounts and coupons. For example, a manufacturer isn't unlikely to give 5000 free parts if you order 50,000 or contractor build one office and get the second half off. However, there is a B2B marketing equivalent – the loyalty program.Loyalty programs can provide customers that purchase large amounts or sign long term contracts with discounts. By implementing this type of program, you show customers that they are being valued and creates retention.
Prospecting
Finally, there is the tried and true method of finding new business through prospecting calls. It might mean you need to purchase a list, but if you can have someone in-house make the calls, this will only cost you some employee time. Since we conduct prospecting call campaigns for clients, I can attest to the results of this more traditional method of lead generation.
About the Author
Paul Kowalski (or Pappy as he is called around the office) spent over two decades working at other agencies before opening Conach Marketing Group in 2008. The early part of his career was working with Fortune 500 clients at different agencies. However, working with smaller clients was his preference. This choice was because of the impact on a client's business growth and forming closer, personal relationships.
About Conach
When he was creating Conach, his goal was to bring those Fortune 500 strategies along with years of B2B marketing experience to small business marketing clients. As a result of focusing on business to business marketing, Conach specializes in construction marketing, financial marketing, and industrial marketing. Even though we are in Mid-Michigan, Conach provides marketing services to clients across the country.
For more information, visit conachmarketing.com or contact us or call 989.401.3202.