2019 Construction Marketing Plan
Is your 2019 construction marketing plan ready?
While we are in the first quarter of 2019, I thought it would be a good time to review your 2019 construction marketing plan. It is important to realize that developing a marketing plan at the last minute – or worse making it up as you go along – usually doesn't yield the best results. Consequently, I hope you have your marketing plan ready to roll for 2109. If not, here are some things to consider:
Plan
Budget
Team
Faith
First – Have a 2019 construction marketing plan
Just in case you missed this point – YOU NEED A PLAN! Your program needs to fit your company. For example, if you are a large commercial construction firm, it should have a section for each target market you serve. On the other hand, if you are a small specialty contractor, it doesn't have to be a multi-faceted campaign involving several channels. Because Conach specializes in small business marketing, we know that marketing budgets can be tight. Even if your plan starts small, with networking, prospecting calls to develop new leads, or an e-bulletin campaign to uncover repeat business, be sure it follows a set schedule.
Second – Have a 2019 construction marketing plan budget
After 30+ years, I can speak from experience that without a budget it is difficult to develop a measurable marketing plan. The majority of clients I have worked with have never established a marketing budget. Because of this lack of planning, there are many decisions you can't make. First, you can't determine the number of lead generation tactics you can employ. Second, you won't know how many target markets you can approach. Third, it will be difficult to decide on the types of sales material you will need. In general, a good rule of thumb for 2019 construction marketing plan budget is .25% – 3% of your annual sales.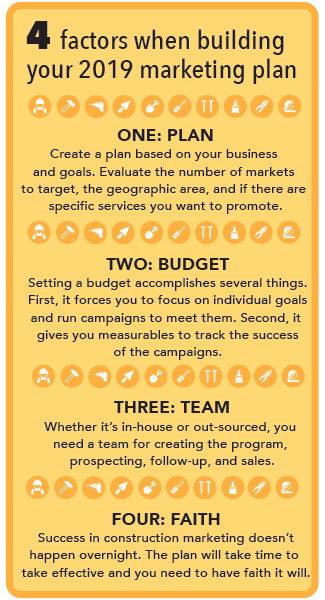 Third – Have the people to execute your 2019 construction marketing plan
It must be remembered that developing a marketing plan without the people to implement it is like constructing a building without a foundation. Eventually, it will collapse. This result is because you need a team to make each part of the plan function properly. With an in-house staff, you will need a number of people because of the complexity of a marketing plan. that can develop a campaign, write copy, design material, work with vendors, and manage the campaign. In addition, your people will need to act as salespeople. With all the factors involved with a marketing plan and campaign, you can see why many contractors choose an outsourced marketing solution like Conach.
Fourth – Have faith in your 2019 construction marketing plan
A point often overlooked, is that you need to believe in your plan. It is important to realize that a program takes time to develop, implement and adjust. You might not see instant results, but if you have put in the time and effort to establish a sound one, you will. In fact, a sound plan will produce short and long-term results. After all, your yearly construction marketing is an investment in your company's future. To summarize, you need to keep the faith – it is a rare occasion that I have seen a good marketing plan fail to bring in new sales.
Pappy
About the Author
Paul Kowalski (or Pappy as he is called around the office) spent over two decades working at other agencies before opening Conach Marketing Group in 2008. The early part of his career was working with Fortune 500 clients at different agencies. However, working with smaller clients was his preference. This choice was because of the impact on a client's business growth and the forming closer, personal relationships.
About Conach
When he was creating Conach, his goal was to bring those Fortune 500 strategies along with years of B2B marketing experience to small business marketing clients. As a result, Conach specializes in construction marketing, financial marketing, and industrial marketing. Even though we are in Mid-Michigan, Conach provides marketing services to clients across the country.
For more information visit conachmarketing.com or contact us or call 989.401.3202.