2019 Industrial Marketing Plan
Is your 2019 industrial marketing plan assembled?
Since the first quarter of 2019 is in its second month, you should have your 2019 industrial marketing plan well underway. Then again, if your 2019 marketing plan isn't started or worse not even developed, the following are factors you should consider:
Team
Strategy
Budget
Patience
Your 2019 industrial marketing plan team
Even though you may develop a marketing plan, you can't implement it without a team. In general, you can think of it as producing a car without an engine. You may want an in-house team to create and manage the plan. If so, you will need one to accomplish several items. One, develop a lead campaign. Two, write copy and design the variety of material. Three, work with vendors to produce the material and run the campaign. Four, individuals that can act as salespeople. Five, evaluate and adjust the campaign. And these are just the main areas of the campaign that do not consider all the various parts of each. Consequently, you can see why many manufacturers choose to outsource many of these functions to agencies such as Conach.
Your 2019 industrial marketing plan strategy
You have a team in place. Whether it's an in-house team, outsourced agency or a combination, a strategy needs to be developed. But how do you accomplish this task? In the first place, you need to determine the markets you will target. If you are a large Tier 2 supplier, you may have less than a handful of markets. A manufacturer that offers a broader service, such as stamping, may have more. Secondly, you need to determine your sales territory. Because of shipping, it could be limited.
On the other hand, if you have a dealer network to sell your equipment, it could be international. Thirdly, you need to determine the lead generation channels to get the word out about your services and products. Finally, assemble your sales team to follow up on leads, make presentations, submit proposals, and close bids.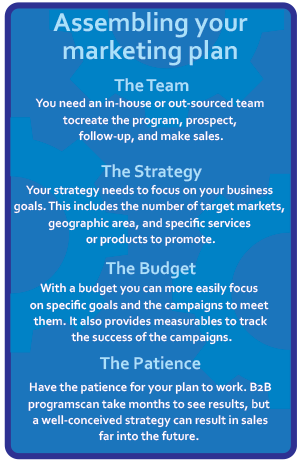 Your 2019 industrial marketing plan budget
Most clients I have worked with have a hard time setting a sales and marketing budget. However, if you don't establish one, it will be challenging to develop a strategy. With a budget, you can decide which lead generation tactics to use, the target markets to reach, and the types of sales material to create. In addition, you can measure the effectiveness of your strategy based on new sales versus your 2019 industrial marketing plan budget. Most of my industrial marketing clients' budget from .25% – 3% of annual sales depending on the various aspects of the strategy.
Patience in your 2019 industrial marketing plan
Even though I mention this factor last, it is critically important. It is important to remember that your program is an investment in your company just like a new piece of equipment. It takes time to see a return on the money spent, but it will come. Be patient and keep in mind sound marketing plans are like a snowball – they grow and build momentum as they continue.
About the Author
Paul Kowalski (or Pappy as he is called around the office) spent over two decades working at other agencies before opening Conach Marketing Group in 2008. The early part of his career was working with Fortune 500 clients at different agencies. However, working with smaller clients was his preference. This choice was because of the impact on a client's business growth and the forming closer, personal relationships.
About Conach
When he was creating Conach, his goal was to bring those Fortune 500 strategies along with years of B2B marketing experience to small business marketing clients. As a result of focusing on business to business marketing, Conach specializes in construction marketing, financial marketing, and industrial marketing. Even though we are in Mid-Michigan, Conach provides marketing services to clients across the country.
For more information visit conachmarketing.com or contact us or call 989.401.3202.