Understanding the construction marketing customer journey
Every customer goes through a journey when working with you. What type of journey the client experiences depends on you and your team. It is critical that you control each phase of the journey to ensure it is pleasant and productive for the customer, as well as profitable for you. Now let's look at each step in the construction marketing customer journey and the marketing factors you need to consider.
Awareness begins the customer journey in construction marketing
First, a prospect must know about your company before they can become a customer. The awareness step accomplishes this brand recognition. In general, the advertising channels that work well to build awareness for construction providers are networking, billboards, vehicle and site signs, sponsorships, and local publications. It is important to remember that your brand remains consistent and correct during the construction marketing customer journey.
Interest is essential to move the construction marketing customer journey forward
Once you've gained awareness, you need to generate interest. This step creates a potential client by presenting an image and message (your brand) that connects with the prospect. This connection occurs because the design and content of your material are relatable to the viewer on their construction marketing customer journey.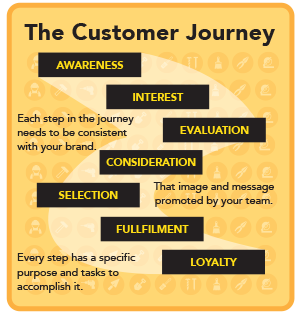 Consideration turns a prospect into a lead
Now that you have the attention and interest of the customer in the construction marketing journey. Consideration is critical to the transformation of a potential customer into a lead. Of course, a prospect must have a construction project for them to consider your services. After all, you can't offer a buy one building and get another free promotion like a pizza parlor. That's why your brand is vital in this step. Focus on messages that promote your strengths, highlight your expertise, showcase customer testimonials, and feature project photos. 
Evaluation qualifies a lead in the construction marketing customer journey
When the lead is aware of your brand, the lead becomes qualified and contacts you to provide a proposal in this phase. Also, this is the step when they evaluate your company along with competing firms for their project. During this phase, you offer your plan and price. However, as essential as these two elements are in the proposal, there are others. You need to provide solutions to the challenges of meeting specific requirements and reinforce the marketing messages that interested the lead in the first place. When this information is part of your proposal, you help to differentiate your company from competitors. It will also take the focus off of cost and emphasize the value you offer.
Selection and fulfillment in the construction marketing customer journey
You've made it through the first four steps and the lead chooses your company. Even though you've won the bid, you need to carry your brand through the rest of the process. Your team and services must reflect the professionalism and promise of your marketing messages. When you maintain your brand, you instill confidence that the customer made the best choice. When the building is finished and satisfaction achieved, you have inspired the next step in the construction marketing customer journey.
Loyalty results in repeat business from the customer journey in construction marketing
The construction marketing customer journey could end with a happy client. But it shouldn't. When you have a satisfied client, you need to cultivate the relationship. When you have a customer relations program the reward will be repeat business and referrals. Encourage customers to follow you on social media and include them in a monthly e-bulletin campaign. Both of these tactics are inexpensive but can add to your future sales significantly.
When the customer journey in construction marketing works
Paying careful attention to each step in the construction marketing customer journey yields several positive results. First, it enhances your brand. Second, it improves market recognition. Next, it awards you more projects. Finally, it increases sales now and for years to come.
About the Author
Paul Kowalski (or Pappy as he is called around the office) spent over two decades working at other agencies before opening Conach Marketing Group in 2008. The early part of his career was working with Fortune 500 clients at different agencies. However, working with smaller clients was his preference. This choice was because of the impact on a client's business growth and forming closer, personal relationships.
About Conach
When he was creating Conach, his goal was to bring those Fortune 500 strategies along with years of B2B marketing experience to small business marketing clients. As a result of focusing on business to business marketing, Conach specializes in construction marketing, financial marketing, and industrial marketing. Even though we are in Mid-Michigan, Conach provides marketing services to clients across the country.
For more information, visit conachmarketing.com or contact us or call 989.401.3202.