Are you practicing influence industrial marketing?
While you may be talking to the owner, project manager, or purchasing agent, are you sure you are communicating with all the decision-makers? If you are practicing influence industrial marketing, you are most likely talking to the right contacts. When implementing this technique, you must find all the decision-makers that will be involved in the decision on your product or services. Once you uncover these contacts, you must determine how much influence each will have and include them in all communications. As a result of this approach, you reduce the risk of missing key influencers and the opportunity to convince them to champion your solution over competitors.
Influence industrial marketing sells individually
It is important to remember that this technique is a one-to-one selling approach. This point is not to be confused with personal selling, which is more about establishing rapport. influence in industrial marketing is finding the key drivers for each influencer, such as price, quality, or after-the-sale support. Then you are sure to cover those drivers in your proposal to satisfy each stakeholder or decision-maker. Because you are offering a solution or solutions to each influencer, you provide a proposal that covers individual needs, leading to more accepted bids.
onnects individually
This part of the influence in industrial marketing is somewhat similar to personal selling. First, ask questions to determine the problems they are having or needs that must be met. Next, relate a case study or story that demonstrates your expertise in meeting their needs. Remember to offer insightful information to establish your knowledge and experience. Now the influencer knows your knowledge, feels you can deliver, and you have a relationship beginning.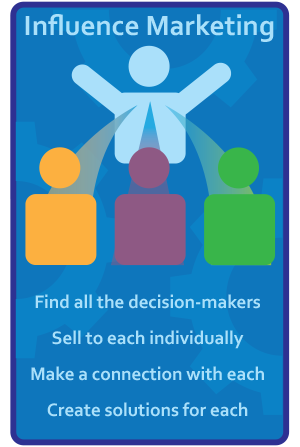 Sell solutions to the individual
Remember that no matter what you manufacture, you are really selling solutions. For example, a prospect can't find a supplier that offers prototyping and low volume production. You provide both – that's a solution. Or a potential customer needs a piece of equipment to work within exact tolerances. You can customize your equipment to meet the specifications – that's a solution. By identifying all the stakeholders, learning their concerns, and developing individual solutions, you have a better chance of winning the contract. That is the rreward of influence in industrial marketing.
About the Author
Paul Kowalski (or Pappy as he is called around the office) spent over two decades working at other agencies before opening Conach Marketing Group in 2008. The early part of his career was working with Fortune 500 clients at different agencies. However, working with smaller clients was his preference. This choice was because of the impact on a client's business growth and forming closer, personal relationships.
About Conach
When he was creating Conach, his goal was to bring those Fortune 500 strategies along with years of B2B marketing experience to small business marketing clients. As a result of focusing on business to business marketing, Conach specializes in construction marketing, financial marketing, and industrial marketing. Even though we are in Mid-Michigan, Conach provides marketing services to clients across the country.
For more information, visit conachmarketing.com or contact us or call 989.401.3202.