Print for B2B Marketing Tips
Let's talk about print for B2B marketing. In the first place, let's be clear that this is not the old marketing dinosaur touting extinct tactics. I am well aware we are living in the digital age!
However, being an old marketing dinosaur means you have learned a thing or two over the years. One of those lessons is that you can't ignore how print marketing continues to play a crucial role in generating B2B sales. You might be surprised to learn that Marketing Sherpa reports that print advertising is the most trusted form of advertising. So, if you think print marketing is no longer in the game, you're wrong, my friend. Whether you're an advocate of print for B2B marketing or not, these tips can help make it more effective.
Ask for action in print B2B marketing
While you may be tempted to create branded image content, consider creating a benefits-focused ad to evoke the audience's interest. Regardless of your advertisement's direction, don't forget to end it with a strong call-to-action. Because your ad closes with a request for the reader to act, you can drive response rates and help track the effectiveness of a promotion.
Customize a landing page
Your first instinct may be to direct your audience to your website's home page through your print B2B marketing. While this tactic can work, you can elicit a better response by use of a custom landing page and URL. For example, if you are ABC manufacturer that sells to the food industry, create a landing page focused on your solutions for that market. Then purchase a distinct URL that drives traffic to that page, such as ABCManuafacturing4Food.com. Consequently, you will highlight your strengths in that market while tracking the visitors' actions.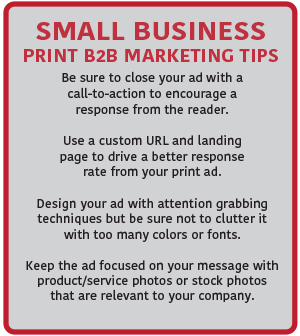 Keep focused in print B2B marketing
With the availability of stock photos plus the plethora of fonts and colors, its' easy to clutter an advertisement. Always remember the purpose of your ad is to sell the product or service in print for B2B marketing. While unique images will grab attention, it may not be for the right reason. A well-designed ad should present the message clearly, use a product photo – which is usually better than stock, connect with the viewer, and use design techniques to stand out. Moreover, for maximum readability, avoid using decorative fonts and too many font colors. Keep things simple and focused on the message, and your ad will sell itself.
Because small business marketing needs to watch every dollar, you need to be certain your advertising works. If you apply this tips print for B2B marketing can be an effective lead generation channel.
About the Author
Paul Kowalski (or Pappy as he is called around the office) spent over two decades working at other agencies before opening Conach Marketing Group in 2008. The early part of his career was working with Fortune 500 clients at different agencies. However, working with smaller clients was his preference. This choice was because of the impact on a client's business growth and forming closer, personal relationships.
About Conach
When he was creating Conach, his goal was to bring those Fortune 500 strategies along with years of B2B marketing experience to small business marketing clients. As a result of focusing on business to business marketing, Conach specializes in construction marketing, financial marketing, and industrial marketing. Even though we are in Mid-Michigan, Conach provides marketing services to clients across the country.
For more information, visit conachmarketing.com or contact us or call 989.401.3202.