Common construction marketing mistakes
I have worked with construction clients for over 25 years and have witnessed a commonality in the construction marketing mistakes made. To be fair, I have also seen these mistakes made with clients in other industries as well. When you make these errors, there are consequences. Let's look at some.
Construction marketing mistake: Not everyone knows your company
"I have been in business (pick a number) of years and everyone knows me." I have heard this declaration from construction clients many times over the years. While it might sound like boasting, I believe it is a misconception. However, it is a dangerous myth to place your future in. It is important to remember that unless you're Apple or McDonald's, not everyone knows you. In fact, I had clients in business for over 100 years that are not widely known in their community. While you can stay operating for a long time flying under the radar, you will be left behind by more aggressive competitors. Market awareness is a crucial factor in a contractor's growth. Therefore, if you want to build sales, don't make this construction marketing mistake. Review your marketing budget and be sure a portion is going to enhance your brand in the marketplace.
Construction marketing mistake: Not being proactive
I have seen this mistake most often. In fact, most of my new construction clients had no or a sporadic marketing program. Even though even the best construction marketing message will not convince a prospect to build, you need to keep your message in front of prospects regularly. When you proactively stay in contact with prospects, they will remember you when they are ready to build. To bring everything full circle, strong brand awareness in your community will also help to keep you in the mind of potential customers.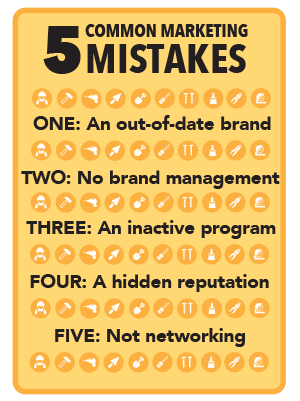 Construction marketing mistake: Not keeping updated
While you might have an affection to your company's logo, it is not "a death until you do part" relationship. A logo that looks dated can make your company look old-fashioned and behind in current best practices. A point often overlooked is that an update to your logo will suffice without having to completely new one. This way, you maintain ties to your heritage while presenting an up-to-date brand. Another construction marketing mistake in this category is not creating new lead generation and sales material regularly. Consequently, this error doesn't allow you to keep projects current. After all, you don't' want it to look like your last project was completed years ago.
Construction marketing mistake: Not managing your brand
Brand management is presenting a consistent image and message. This uniformity is critical because without it you send a confused and unprofessional image to potential customers. It is important to remember that a cohesive brand must be maintained throughout all aspects of your marketing program from lead generation through sales. In fact, any employees creating in-house documents should work from a template to assure your brand remains intact.
Construction marketing mistake: Not proving your reputation
Generally speaking, your company reputation is earned over time. But that reputation is only known to your clients. Of course, they might refer you based on the satisfaction they receive from you. Nevertheless, prospects will not be aware of your reputation unless you tell them. And most importantly, prove it. You confirm your rep by having testimonials and project case studies with photos that demonstrate the quality you provide. Another way to verify your integrity is to offer warranties beyond the industry standards.
Construction marketing mistake: Not being a good community member
Networking is an essential part of construction marketing. This tactic can be achieved while also contributing to your community. Join the Chamber of Commerce, sit on the board of a non-profit, or become active in a charity organization. Because of this participation, you will build goodwill for your company and help your community.
About the Author
Paul Kowalski (or Pappy as he is called around the office) spent over two decades working at other agencies before opening Conach Marketing Group in 2008. The early part of his career was working with Fortune 500 clients at different agencies. However, working with smaller clients was his preference. This choice was because of the impact on a client's business growth and forming closer, personal relationships.
About Conach
When he was creating Conach, his goal was to bring those Fortune 500 strategies along with years of B2B marketing experience to small business marketing clients. As a result of focusing on business to business marketing, Conach specializes in construction marketing, financial marketing, and industrial marketing. Even though we are in Mid-Michigan, Conach provides marketing services to clients across the country.
For more information, visit conachmarketing.com or contact us or call 989.401.3202.