Building trust through construction marketing
After working with over 50 construction-related clients in my career, I know it's essential for them to create trust with potential customers. After all, building a hospital, school, restaurant, or physician's office is a significant undertaking for the owner. They need to have confidence in the builder they choose. In this article, I will cover several ways of building trust through construction marketing.
Testimonials prove trust through construction marketing
As much as your team should be able to tell prospects about your advantages as a builder, nothing tops a third-party endorsement. While happy customers are the most persuasive testimonial, don't ignore respected trades. Even though they work for you, if they are known and respected in the community, their endorsement can have value. You should ask customers for a testimonial shortly after the project is completed to assure the details are fresh in their mind. Remember, your customers' and sub-contractors' words are effective ways to enhance trust through construction marketing .
Project case studies demonstrate trust through construction marketing
One of the most effective tools in creating trust through construction marketing showing your experience and developing trust is through project case studies. When you combine the facts and photos of the project, you have a one-two punch to present your capabilities. Keep in mind that you should also include any challenges on the project, as well as your solutions. Another practice you should implement is including a testimonial about the project if available. Additionally, your website is a great place to feature client comments.
Team profiles establish trust through construction marketing
Team profiles of your key people promote their expertise. In fact, you can think of them as biographies with the same information as a resume. In general, this info should cover education, industry experience, and associations, as well as company responsibilities. You can also add community involvement to show your contributions to local organizations. Overall, profiles can be used in sales packets and your website. These mini-bios create trust through construction marketing and start to build a connection with customers.
Photos enhance trust through construction marketing
I have already mentioned project photos in project sheets illustrate your capabilities to create trust through construction marketing. However, that is not the only place photos can be useful. First, sales materials, such as brochures and presentations, should use project and worksite photography extensively. Next, the Internet is perfect to focus on photos. Your social media platforms and website need to highlight photography. Accordingly, your website should have a project gallery. If possible, this gallery should be divided into markets you serve. When you separate photos into markets, you create trust through construction marketing by demonstrating expertise.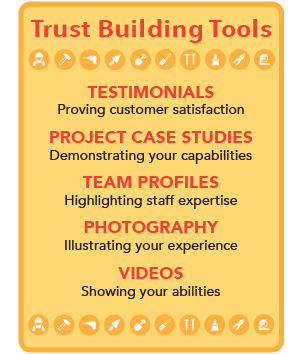 Videos strengthen trust through construction marketing
Videos are an excellent tool to establish trust with prospects. For example, a customer testimonial video is a compelling endorsement of your trustworthiness as a contractor. Other videos could highlight your overall capabilities, feature a specific target market, or promote a particular service. Keep in mind, visuals of your work clearly show trust through construction marketing
The benefits of establishing trust through construction marketing
By implementing some of these tools and tactics, you can start to create a relationship with potential customers based on confidence. When you establish the fact you can be trusted early, you begin the sales process ahead of competitors and lessen the emphasis on price. These tools build trust through construction marketing and are worth the effort.
About the Author
Paul Kowalski (or Pappy as he is called around the office) spent over two decades working at other agencies before opening Conach Marketing Group in 2008. The early part of his career was working with Fortune 500 clients at different agencies. However, working with smaller clients was his preference. This choice was because of the impact on a client's business growth and forming closer, personal relationships.
About Conach
When he was creating Conach, his goal was to bring those Fortune 500 strategies along with years of B2B marketing experience to small business marketing clients. As a result of focusing on business to business marketing, Conach specializes in construction marketing, financial marketing, and industrial marketing. Even though we are in Mid-Michigan, Conach provides marketing services to clients across the country.
For more information, visit conachmarketing.com or contact us or call 989.401.3202.