The power of profiles in financial marketing
Over my career, I have had many clients over the years ask if it is worth the effort to develop team profiles as a sales tool. While I don't feel bios are critical in B2C marketing, B2B is another animal. B2B marketing relies on building trust with potential customers and profiles of key staff can help. For this reason, it is especially true of profiles in financial marketing. Let's review the factors to consider when creating financial marketing profiles.
Who should be in financial marketing profiles?
Often, there is a debate over which of the staff should appear in your profiles in financial marketing. All in all, I feel it depends on the image you want to present. When you are a large firm seeking bigger clients, just the key team members should suffice. The reason is because larger companies are not interested in learning about every employee you have. After all, prospects want to know about partners, management, and senior accountants.
On the other hand, smaller businesses are usually looking for a more personal connection. Therefore, staff such as junior accountants and support people would be appropriate to add to your financial marketing profiles.
How to create financial marketing profiles
You should look at profiles in financial marketing as biographies of your team. In essence, these bios need to have the same pertinent information you would include in a resume. Overall, education, industry experience, associations, and responsibilities. When you want to make a profile friendlier, you can add community involvement and personal interests.
It is important to remember that profiles are not just about the info. The image you present is just as important. Consequently, you should have a professional photographer take the photos. Or at the very least, someone with a high-resolution camera against a pleasant setting – no smartphone selfies. You may want to consider taking the photos at well-known local spots to connect your firm more with the community it serves.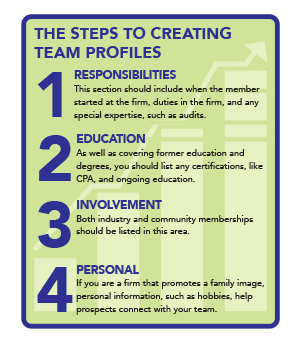 Where to use financial marketing profiles
Simply put, your team profiles are sales and marketing tools. Thereby, use them as part of your program to establish your industry experience and expertise. The following are ways to utilize profiles:
Your website
Social media posts
Emailed response PDFs
Printed sales packets
Introductory packages
What is the value of financial marketing profiles?
While I have listed how to use profiles in financial marketing, I would like to point out their value. First, most financial firms establish very personal relationships with their clients. In fact, team bios act as the initial introduction to your staff. Accordingly, they need to make an excellent AND professional impression. Profiles in financial marketing need to encourage prospects to want to work with your firm and its team. With this point in mind, build profiles that represent not only the individual but also your firm as a whole.
About the Author
Paul Kowalski (or Pappy as he is called around the office) spent over two decades working at other agencies before opening Conach Marketing Group in 2008. The early part of his career was working with Fortune 500 clients at different agencies. However, working with smaller clients was his preference. This choice was because of the impact on a client's business growth and forming closer, personal relationships.
About Conach
When he was creating Conach, his goal was to bring those Fortune 500 strategies along with years of B2B marketing experience to small business marketing clients. As a result of focusing on business to business marketing, Conach specializes in construction marketing, financial marketing, and industrial marketing. Even though we are in Mid-Michigan, Conach provides marketing services to clients across the country.
For more information, visit conachmarketing.com or contact us or call 989.401.3202.