Understanding the phases of industrial marketing and inbound marketing
Inbound marketing is a relatively new term in industrial marketing. While many of the techniques have been in use for years, even decades, many manufacturers are just beginning to employ them. The various channels used by industrial inbound marketing attracts potential customers to your company through informative, non-disruptive content. Industrial marketing and inbound marketing channels are made up of blogging, search engine optimization, and social media.
The difference between inbound and outbound
While the channels for inbound marketing focus on drawing in prospects to your website or social media platforms, outbound marketing reaches out to potential customers. The more traditional channels of outbound marketing are direct mail, telemarketing, email marketing, print/online advertising, and trade shows.
The 4 Phases of inbound
Now that you understand how inbound marketing functions, let's discuss the four phases of industrial inbound marketing. In fact, if you have read my blog Retention in the Industrial Marketing Sales Funnel, you will find these stages are similar to the sales funnel. The phases are:
Attraction
Action
Conversion
Satisfaction
Attraction in industrial inbound marketing
The Attraction Phase is when a potential customer finds your company. This discovery could be either through a search leading to your website, reading your blog or a social media platform. It is important to remember that two tactics attract this visitor – keywords and content. Because you want visitors that are likely to be interested in your services or products, you need a strategy for both.
Keywords have to focus on words/phrases relative to your company that prospects use when conducting an internet search. Once you have your keywords, write them into your website and articles as part of your content and search engine strategies. Because your content should be interesting and informative, it should be less about selling and more about offering information of value.
Action in industrial and inbound marketing
The Action Phase is turning a visitor into a prospect. This process takes place through call-to-actions you have throughout your inbound marketing channels. For example, it could be a landing page with a form on your website or a request-a-quote link in an email. Another sample is linking to your blog on a social media post. The purpose of a call-to-action is to get the visitor's contact information to determine their level of interest. With this in mind, a link to your blog or an article needs a link to a contact us page.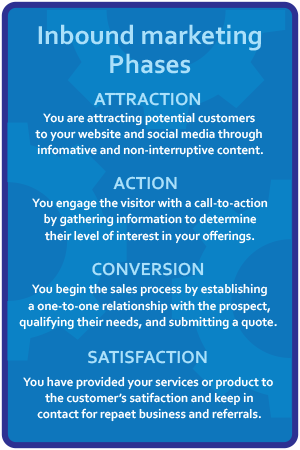 Once you qualify that the visitor uses your product or service, you have a prospect. Next, you need to turn that prospect into a lead. Hence, the Conversion Phase.
Conversion in industrial inbound marketing
This phase is the sales process, where you personally contact the prospect to start the relationship. When the conversion phase begins, focus on your marketing messages to align their needs with your solution. When working with our clients, we combine several messaging strategies, including Pain Point and Relief, Feature/Benefit, and Decision Drivers. This multi-tiered technique offers your sales team with many key points to demonstrate your value to the decision maker.
Now, if everything progresses well, the lead becomes an opportunity for a sale. The relationship is now at a point where you can submit a quote and provide a solution. Of course, the decision maker always considers price but proving the value of your solution minimizes the emphasis on being the lowest bidder. Remember to review the benefits of selecting you over the competition. As a result of all this work, you've won the bid and have a new customer. Next comes the final phase of satisfying the customer.
Satisfaction in industrial and inbound marketing
While creating a satisfied customer certainly means delivering your service or product as promised, it is more than that. It is the total process of fulfilling your proposal. It is critical to remember that it includes communication, responsiveness, installation or training, and follow-up to be sure the customer is happy. In fact, how you conduct business with a customer is just as essential as the service or product you provide.
Whether you have a sophisticated automated CRM program or you only call or email, you need to keep in contact with customers. This contact is key because it results in repeat business. Also, if it's a satisfied customer, you have a referral source for new sales.
Industrial inbound marketing and outbound marketing
Finally, I want to make the point that your lead generation campaign should incorporate both inbound and outbound marketing. By implementing both channels, you have a steady stream of leads being drawn to your company and that you are reaching. When it comes to new business development, never put your eggs in one basket. A program that combines and coordinates inbound and outbound tactics will yield the best overall and long-term results.
About the Author
Paul Kowalski (or Pappy as he is called around the office) spent over two decades working at other agencies before opening Conach Marketing Group in 2008. The early part of his career was working with Fortune 500 clients at different agencies. However, working with smaller clients was his preference. This choice was because of the impact on a client's business growth and forming closer, personal relationships.
About Conach
When he was creating Conach, his goal was to bring those Fortune 500 strategies along with years of B2B marketing experience to small business marketing clients. As a result of focusing on business to business marketing, Conach specializes in construction marketing, financial marketing, and industrial marketing. Even though we are in Mid-Michigan, Conach provides marketing services to clients across the country.
For more information visit conachmarketing.com or contact us or call 989.401.3202.