The 2019 small business marketing plan checklist
Now that we are at the end of the first quarter, I hope you have your 2019 small business marketing plan well underway. If you haven't started this marketing program, the following is a checklist to get started:
Planning: Markets, Budget and Staff
Branding: Image and Message
Lead Generation: Prospects and Customers
Sales: Material and Process
Evaluation: Immediate and Investment
Planning your 2019 small business marketing plan
When planning your marketing plan, you need to decide three items. One, which markets you will target. Two, the budget you will set. Three, the people that will carry out the plan. Many of our clients work with several markets. As a small business, it might be too costly to have a plan for each. If that is the case, you will need to choose the markets based on potential growth or which are most profitable.
Often, the most challenging part of the plan is determining a budget. While each business is different, a good rule of thumb is using .5% to 3% of your yearly sales as your marketing budget.
A marketing plan is a complex entity. As a result, it can take several professionals to create, implement, manage, and evaluate it. Most small businesses find outsourcing portions of it to an agency like Conach the most cost-effective solution.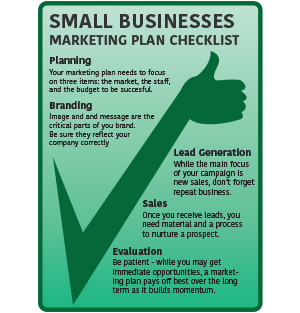 Branding in your 2019 small business marketing plan
Even though you are a small business, your brand is still a big deal. Too many small companies that I have worked with ignored their brand. When this neglect is almost always detrimental. Your brand consists of your image and message.
Your image is a combination of your logo as well as the layout of your lead generation and sales material. It needs to reflect your company, while not be dated or trendy, and connect with your potential customers.
Messaging is how you promote your product or services. However, it needs to be more than just saying here's what we do or sell. Your messages need to separate your company from competitors by highlighting the advantages and benefits you bring to customers. When you use a multi-tiered messaging strategy, as we do at Conach, it easier to accomplish those goals
Lead generation for your 2019 small business marketing plan
It is important to remember, that without lead generation campaigns, it is unlikely your sales will grow at the rate you wish. While approaching new business prospects is a standard campaign, current, and past customers are often ignored.
A point often overlooked, is that it is easier to sell to a customer you have than to get a new one. If you don't have a program to keep in regular contact with your customers, start one.
Sales in your 2019 small business marketing plan
Of course, getting a lead is the first step in making a sale. Thus, you need a sales program to close the deal. As part of this program, you will need material and a process.
Your sales material supports your salesperson or team. Because of this function, it needs to be a library they can draw from for response to leads, nurture prospects, make presentations, and develop proposals.
In the first place, you need someone to sell to have a sales process. Depending on the size of your company this could be one person or several. A key point is that no matter the size of your sales staff, you need a structure to follow. This approach will help lead them through the various steps in the sales process while increasing the likelihood of success.
Evaluating your 2019 small business marketing plan
Everyone like instant gratification. However, in B2B marketing you need to assess a sales and marketing plan both short and long-term. If you have a sound program, you should see new customers in the first several months. But the real payoff comes over time. The reason is that as you continue marketing year after year, it has a cumulative effect. Why this effect? Because the more potential customers you connect with, the more your sales will build.
Pappy
About the Author
Paul Kowalski (or Pappy as he is called around the office) spent over two decades working at other agencies before opening Conach Marketing Group in 2008. The early part of his career was working with Fortune 500 clients at different agencies. However, working with smaller clients was his preference. This choice was because of the impact on a client's business growth and the forming closer, personal relationships.
About Conach
When he was creating Conach, his goal was to bring those Fortune 500 strategies along with years of B2B marketing experience to small business marketing clients. As a result of years of focusing on business to business marketing, Conach specializes in construction marketing, financial marketing, and industrial marketing. Even though we are in Mid-Michigan, Conach provides marketing services to clients across the country.
For more information visit conachmarketing.com or contact us or call 989.401.3202.