Industrial marketing sales funnel
The complete industrial marketing sales funnel
Even though the standard sales funnel ends with the sale, I believe it needs to have another step. The additional section is retention. The reason for this step is to focus on keeping a customer. After all, it's easier to sell to a current customer than to a potential one. In this blog, I'll look at what I believe is the complete industrial marketing sales funnel:
AWARENESS
INTEREST
ENGAGEMENT
OPPORTUNITY
SALE
RETENTION
AWARENESS in the industrial marketing sales funnel
In the awareness stage, you are creating recognition of your company in the markets you serve. Your marketing, lead generation and sales program is presenting your brand, products, services, and strengths through various tactics. All this activity is creating familiarity of your brand with potential customers. Among these activities could be trade shows, prospecting calls, search engine campaigns, or print and online advertising. It is important to realize that this is the first step in the sales process, and while it may produce leads, it is meant to build your brand.
INTEREST in the industrial marketing sales funnel
While the awareness phase might not generate a ton of leads, it is critical to the next phase in the funnel – interest. The reason is that awareness makes it easier to create interest in your company with prospects. By making your brand known, your lead generation efforts will be enhanced because of the recognition in the marketplace. A point often overlooked is that a potential customer is more receptive to advertising or sales efforts from known businesses.
ENGAGEMENT in the industrial marketing sales funnel
This step in the industrial marketing sales funnel comes when your sales team actually engages a lead. Whether it is by e-mail or a phone call, the key point is to nurture the lead. Besides having a stellar salesperson, other tools will usually be employed. The sales tools build rapport with the prospect while proving your value as a supplier. These tools could be brochures that highlight products, services, advantages, target market content, case studies or testimonials. These tools need to be ready when needed. If you don't have an in-house copywriter and designer, outsource to professionals to create your library of sales tools. As a result, you will be sure it presents a uniform and proper image of you brand and message. The long-term benefit will far outweigh the cost.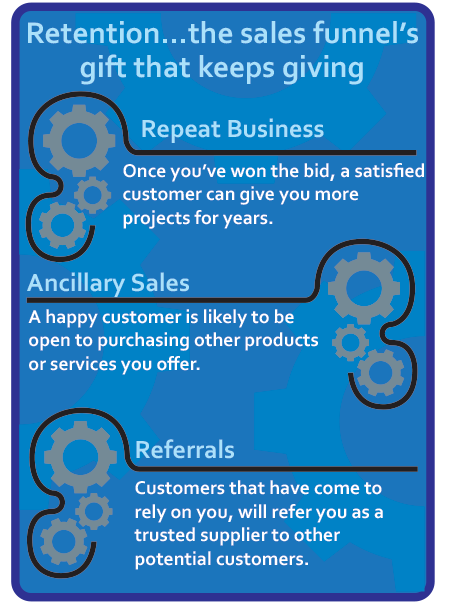 OPPORTUNITY in the industrial marketing sales funnel
Assuming your sales rep has done an admirable job with the lead, you are now at the stage where you present your solution. The opportunity phase in the industrial marketing sales funnel gives you an opportunity to turn that lead into a customer. At this point, you present solutions, answer objections, demonstrate products, detail services, and prove the value of your price. In other words, convince the potential customer to choose you over a competitor. Just as in the engagement step, you will need tools in this phase. Those tools could be videos, presentations, technical data, and, of course the proposal.
SALE in the industrial marketing sales funnel
This part is the most obvious, and hopefully, the easiest. However, that is not always the case. Even if you are not up against multiple bids, there could be delays. This delay could have several reasons. It could be because the "almost new" customer isn't willing or able to make the expenditure, their operations aren't prepared, the facility needs to be updated or revisions need to be made to your solution. At this point, a clear understanding of your sales cycle helps to alleviate frustration. Your sales cycle is the average time it takes for a lead to become a customer. Realizing that converting the sale can take months will give you the tenacity to maintain the relationship to close the eventual sale.
RETENTION in the industrial marketing sales funnel
You've hung in there and closed the sale. Now comes the most rewarding part of the industrial marketing sales funnel – retaining the customer. It's a given that every stage of the funnel is essential. After all, if you don't execute each one properly you will never get the customer. But I feel the retention phase is most important because it is where all the previous effort really pays off. While every salesperson enjoys the thrill of the first sale, the repeat business that goes on for years is truly satisfying.
Consequently, fulfilling the promise of your proposal with excellent service, quality products, and a customer-focused relationship is critical. Remember that satisfied customers become long-term customers. And remember that a happy customer will be happy to refer you to others. This is why developing a program that keeps customers happy as well as continuing to ask for new projects builds a foundation for the long-term success of a manufacturer.
About the Author
Paul Kowalski (or Pappy as he is called around the office) spent over two decades working at other agencies before opening Conach Marketing Group in 2008. The early part of his career was working with Fortune 500 clients at different agencies. However, working with smaller clients was his preference. This choice was because of the impact on a client's business growth and the forming closer, personal relationships.
When he was creating Conach, his goal was to bring those Fortune 500 strategies along with years of B2B marketing experience to small business marketing clients. As a result of focusing on business to business marketing, Conach specializes in construction marketing, financial marketing, and industrial marketing. Even though we are in Mid-Michigan, Conach provides marketing services to clients across the country.
For more information visit conachmarketing.com or contact us or call 989.401.3202.