Financial marketing sales funnel
Understanding the roles in the financial marketing sales funnel
Because it's called the sales funnel, it's often forgotten that marketing and lead generation also plays a role in it. Of course, both are an essential part of the sales funnel, though the roles have changed over the years. Or maybe it's just that people are beginning to recognize the overlap in marketing, lead generation, and sales. In this blog, I'll discuss these roles in the financial marketing sales funnel:
The role of marketing
Lead generation's role
The role of sales
Where the roles overlap
Marketing in the financial marketing sales funnel
In the past, it was thought that marketing was only involved in the early steps of the sales funnel. I believe marketing is pervasive throughout the sales process. After all, marketing is the combination of your brand, messages, and image presented uniformly in your various strategies to grow your client base. At least that's how I define marketing. For this reason, marketing has a role in every stage of the sales funnel process:
First, it must make the correct impression on a potential buyer with the appropriate image and messaging.
Second, the strategy behind your various campaigns must produce qualified leads.
Third, it presents your strengths and advantages throughout the sales process to support your proposal and price.
Although it is easy to see the influence of marketing in producing the strategies to get a lead, it might not be as evident in the sales area. Your sales material, presentations, and proposals should all be produced by your marketing team in cooperation with your sales team. The reason for this approach is because marketing looks at the overall program, while sales tend to focus on individual campaigns or goals. In the end, if marketing does not have a supporting role in your financial marketing sales funnel each stage of the process will suffer.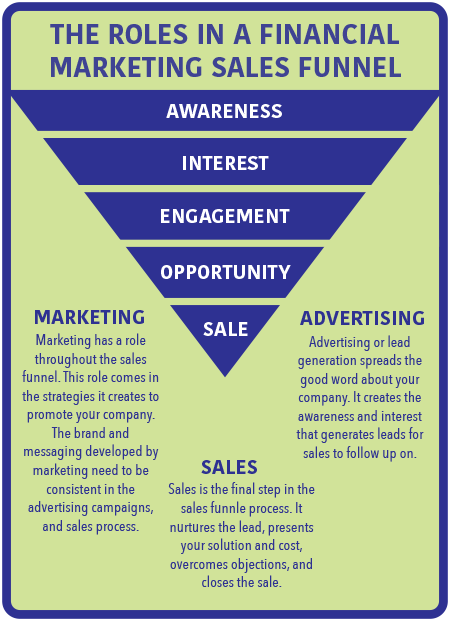 Lead generation in the financial marketing sales funnel
Obviously, lead generation's role in the financial marketing sales funnel is to bring in leads. However, its function doesn't stop there. Before we discuss that other critically important function, let's look at the three areas of lead generation or advertising:
Awareness advertising
Awareness advertising broadcasts your brand, message, and services to a broad, unqualified market. Its channels include national and regional print and online advertisements, outdoor signs and billboards, social media, radio, and television.
Target advertising
Target advertising focuses on a select audience in a specific geography or industry. Its channels include print and online advertisements in industry-specific publications, targeted social media, tradeshows, search engine marketing, and direct mail.
Direct advertising
Direct advertising involves contacting potential customers on a one-to-one basis. Its channels include prospecting call campaigns, direct mail to a qualified contact, and e-bulletins to interested prospects.
It's evident that there are many lead generation channels available to build a campaign. Because most lead generation campaigns use multiple channels, it makes determining where a lead comes from difficult. But the effort must be made. This part is where the other role of lead generation comes in – discovering which channels brought in the lead.
This job falls to the first person talking to the lead. However, it's not enough to just ask "how did you find us." The person needs to delve deeper to determine the "lead string." In brief, the lead string is the number of channels the lead used to get to you. For example, a potential client could see your billboard but can't remember your domain. Next, the prospect searches your firm to find your website. Was it the billboard or Google search that brought in the lead? In reality, it is both and both are part of the lead string. By having this information and understanding how the lead string works, will give you a more accurate analysis of your campaign's effectiveness.
Sales in the financial marketing sales funnel
As with lead generation, sales role in the financial marketing sales funnel is pretty clear – make a sale. First, sales must turn the prospect into a qualified lead that wants a proposal.
Second, the salesperson presents a proposal detailing your services, solution, and cost. Third, close the sale by answering any objections and proving you are the best choice.
Overlapping roles in the financial marketing sales funnel
Even though I've neatly compartmentalized the roles in the financial marketing sales funnel there is overlap. For example, the brand, messaging, and strategies developed by are used throughout the advertising campaigns, as well as sales process and its materials. As a result of this uniformity, your firm presents a consistent image to strengthen awareness.
Advertising is the first part of sales, especially in a prospecting call program. The reason for this is because the calls are usually made by a salesperson.
The entire sales process is supported by your brand and messages, which are created in marketing. Intriguing advertising brings in the leads that offer the sales team the opportunity to welcome a new client into your firm.
Pappy 
About the Author
Paul Kowalski (or Pappy as he is called around the office) spent over two decades working at other agencies before opening Conach Marketing Group in 2008. The early part of his career was working with Fortune 500 clients at different agencies. However, working with smaller clients was his preference. This choice was because of the impact on a client's business growth and the forming closer, personal relationships. 
When he was creating Conach, his goal was to bring those Fortune 500 strategies along with years of B2B marketing experience to small business marketing clients. As a result of focusing on business to business marketing, Conach specializes in construction marketing, financial marketing, and industrial marketing. Even though we are in Mid-Michigan, Conach provides marketing services to clients across the country.
For more information visit conachmarketing.com or contact us or call 989.401.3202.