Industrial marketing advertising
Assembling an industrial marketing advertising campaign

A consistent industrial marketing advertising campaign can help a manufacturer in many ways. First, the campaign builds brand recognition within the markets you currently serve. This brand awareness makes it easier for your sales team to connect with potential customers. Second, you can promote your advantages against the competition. Third, you have a perfect platform to introduce new products. Lastly, you can engage a campaign to help break into new markets. In this blog, I'll look at:
Developing the campaign
Choosing publications
Weighing print versus online advertisements
Evaluating the effectiveness
Developing your industrial marketing advertising campaign
In order to create advertising for industrial marketing, you need to assess several factors. These factors are target, focus, frequency, and budget. To begin, let's look at each of these areas.
Target
The target of your campaign are the markets the campaign will center. For my industrial marketing clients, I recommend a mix of current markets and ones you want to build more sales or new markets. The breakdown depends on your growth goals and which markets you anticipate providing the best growth.
Focus
The focus of your campaign is the topics used in the advertisements. The topics could be a single message that runs the whole campaign or multiple messages. For example, a branding focus could promote a significant benefit of your company or a service/product that runs year long. In contrast, it could be several advertisements promoting related services, a new product line or solutions to individual markets.
Frequency
Frequency is a critical factor in the success of industrial marketing advertising. This part of the strategy is the number of times you run your advertisement. The elements competing for attention today is always increasing. As a result of this competition, you need to get your message in front of prospects multiple times. Consequently, we recommend a minimum of a quarterly frequency. However, it's important to realize the higher the frequency, the stronger the retention of your brand and message.
Budget
Setting a budget can be daunting, especially if it's your first plunge into advertising. In general, I recommend using between 20% to 30% of your total marketing budget for industrial marketing advertising. Of course, this number can vary depending on what other tactics are in the overall budget. Tradeshows and search engine marketing can be expensive and demand more of the marketing pie. New services or products can require a one-time expense that distorts normal budgetary distributions.
Selecting publications for your industrial marketing advertising campaign
From regional association publications to national trade magazines, there are a plethora of advertising options to consider for industrial marketing. Let's take a look at some factors to consider when making publication choices. When researching magazines to place advertisements, you need to know all the pertinent data on the readership. You can find most of this information in the publication's Business Publications Audit (BPA). This report contains information on circulation and readership. The publication's media kit should provide this data. It is good to note that the kit will also have other information you will need to develop the campaign. Print and online rates, editorial calendar, ad specifications, and additional advertising opportunities are all part of the campaign you will need to make decisions on.
Rates are based on the size of the advertisement and the frequency of the ad placement.
Editorial calendars breakdown the focus (or focuses) of each issue allowing you to pick the ones that fit best with your product or service.
Ad specifications give you the size of the different ads and the technical requirements of the magazine, both print and digital.
Additional advertising opportunities could include direct mail lists, social media, webinar sponsorships or tradeshow promotions.
Aligning your publications with your marketing plan
There are publications that reach a broader audience within an industry and others that are narrowly focused. Because of this, you need to align your publication choices with your sales and marketing plan. If you intend to build a brand within the full scope of a market, the general, broad-based publication is the ticket. If you have products or services that are a niche to specific markets, go with the more tightly focused trade or specialty magazines.
General topic and association publications reach a wider readership. For example, let's say many different industries can use your equipment. You need to determine if a broad-focused magazine that reaches several sectors is of more value (add cost compared to readership demographics) than a specialty or trade publication. This type of publication will typically be more expensive because of its wider circulation and larger readership. If the decision-makers in the markets you want to reach are the primary readers, then it may be worth the investment. If not, you need to look at specialty publications.
Specialty or trade publications target a specific audience within the broader scope of a particular industry. If the aforementioned manufacturer produces equipment for weighing and batching ingredients, it could target the food, pharmaceutical and plastics industries. Because a broad-focused magazine would rarely cover all of those markets, your money would be better spent in specialty publications targeting the individual markets you serve.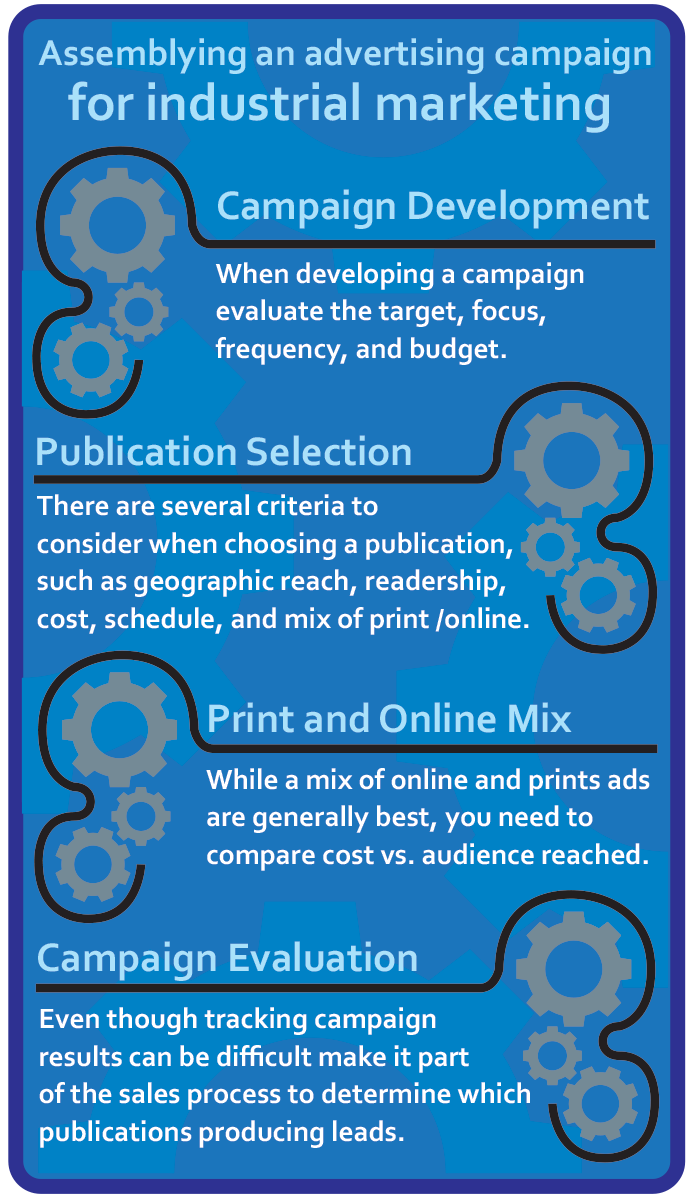 Print and online adverting for industrial marketing
Most publications offer both print and online ads. Just like print advertisements, there are a wide a variety of digital ads. The costs for print vary according to size, number of placements, B&W or color, and placement in the publication. The price ranges from magazine to magazine depending on the circulation of each. Online advertisements offer the options of a set amount each time the ad is placed (as in an e-newsletter) or CPM rate. The set cost is like a print ad with total price calculated on size placement and frequency.
CPM stands for Cost Per Thousand (the M represent the Roman numeral for 1000) and is the price of 1000 impressions (when the ad is seen) on a webpage. For example, a leaderboard ad that costs $2.00 CPM, will cost $2.00 for every 1000 impressions. When weighing the ratio of digital to print ads in your campaign consider the number of people that will see the ad and if it is worth the cost. Online CPM ads, charge whether the viewer clicks on your ad to visit your website or not. Print offers the benefit of both subscribers and pass-along audiences seeing your advertisements.
The effectiveness of your industrial marketing advertising
As I've discussed in other blogs (see industrial marketing ROI and construction marketing tracking), tracking the effect of your advertising campaign is problematic at best. In fact, at times its nearly impossible. However, you need to make the effort to determine which publications are worth the money you are spending. If you are running online banner ads on a website or e-newsletter, you can track the lead originated from in Google. Print is trickier. Your sales team will need to be diligent in asking where the lead found your company. In fact, you should make it the beginning of the sales interview.
Even with these tools, the point that can't be overlooked is the blend of your advertising mix. After 30 plus years in the biz, I've learned real growth comes from the combined effort of your program, not from one industrial marketing advertising channel. Track publications to determine which to keep and which to drop but remember that publication marketing is just part of the whole. My recommendation is always to judge the effectiveness of your program based on overall sales growth over time. After all, every part of the process works to grow your company. Finally, remember that advertisements need to align with your brand and messaging. Consistency in image and message will make every part of your sales and marketing program far more effective.
Pappy
About the Author
Paul Kowalski (or Pappy as he is called around the office) spent over two decades working at other agencies before opening Conach Marketing Group in 2008. The early part of his career was working with Fortune 500 clients at different agencies. However, working with smaller clients was his preference. This choice was because of the impact on a client's business growth and the forming closer, personal relationships.
When he was creating Conach, his goal was to bring those Fortune 500 strategies along with years of B2B marketing experience to small business marketing clients. As a result of focusing on business to business marketing, Conach specializes in construction marketing, financial marketing, and industrial marketing. Even though we are in Mid-Michigan, Conach provides marketing services to clients across the country.
For more information visit conachmarketing.com or contact us or call 989.401.3202.