B2B is also P2P industrial marketing
Most business owners understand the meaning of business-to-business or B2B marketing. The majority of manufacturers conduct business as a B2B company. The reason is that they are suppliers, not the OEM selling products to consumers. However, you might not know P2P industrial marketing. It is important to realize that I'm not speaking of peer-to-peer marketing, which is a consumer strategy that encourages customers to promote their products or services to friends. The P2P marketing I'm talking about is professional-to-professional. While it is essential to exhibit professionalism in every B2B relationship, it is critical in P2P industrial marketing. Today's industrial world is more challenging than ever – and will continue toward this trend. As you face increasing competition, the professional will usually win the bid. As an owner of a B2B advertising firm, the following are guidelines I try to practice.
Act honestly in P2P industrial marketing
Integrity in business is the first rule of P2P industrial marketing. In fact, it comes down to a simple maxim: treat people as you want to be treated. Conducting business by this principle means you keep your promises, meet your contracts, stay firm with your quotes, back your work, and own your mistakes. By following these five rules, you and your company will earn a reputation for integrity.
Be professional friendly in P2P industrial marketing
Professionalism doesn't mean being impersonal – far from it. Accordingly, one of the best ways to establish a long-term business relationship is to make it personal on some level. When you can be friendly yet professional, you have found the right balance. Of course, you want to engage in small talk or show interest in the customer's life.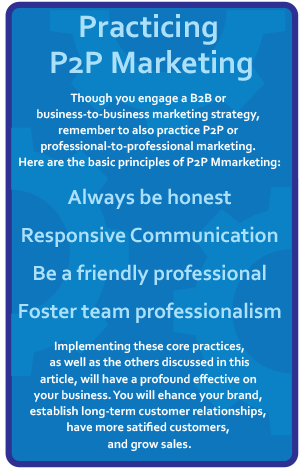 On the other hand, lengthy conversations about non-business topics are not respectful of the customer's time. Finally, prepare for any meetings with the client, even if it is a phone meeting. Know what you want to discuss to keep the meeting on track and productive.
Maintain responsiveness in P2P industrial marketing
Open and timely communication is the hallmark of a professional. And because of today's digital business world, it is essential. Therefore, as a manufacturer, you should always provide quotes accurately, acknowledge emails to be courteous, return emails and calls promptly, and keep customers informed of changes.
Develop team professionalism in P2P industrial marketing
An owner should not just practice personal professionalism alone. A point often overlooked that it needs to extend to your employees. When working to instill professional behavior in your team, you need to lead by example. Through your actions, you will encourage your workers to follow your practices. It's important to remember to reward staff that practice P2P industrial marketing because it will help your business in the end.
Build your brand with professionalism in P2P industrial marketing
The rewards of P2P industrial marketing are many and all lead to more sales. First, it garners referrals from satisfied customers. Next, it promotes repeat business. It also enhances your reputation in the industry. Finally, it will give you pride in a company that presents professionalism in all aspects.
About the Author
Paul Kowalski (or Pappy as he is called around the office) spent over two decades working at other agencies before opening Conach Marketing Group in 2008. The early part of his career was working with Fortune 500 clients at different agencies. However, working with smaller clients was his preference. This choice was because of the impact on a client's business growth and forming closer, personal relationships.
About Conach
When he was creating Conach, his goal was to bring those Fortune 500 strategies along with years of B2B marketing experience to small business marketing clients. As a result of focusing on business to business marketing, Conach specializes in construction marketing, financial marketing, and industrial marketing. Even though we are in Mid-Michigan, Conach provides marketing services to clients across the country.
For more information, visit conachmarketing.com or contact us or call 989.401.3202.