The case for a construction marketing inbound and outbound combo
While certain aspects of inbound marketing have been around for decades, as a full program, it is relatively new. Outbound marketing, on the other hand, has been in use as long as marketing has existed. Since it is the more modern marketing tactic, most inbound construction marketing specialists will tell you don't need outbound marketing. I don't agree. In fact, I feel an effective sales and marketing program you need both. In case you are unfamiliar with the two strategies, let's look at what each involves.
What is construction marketing inbound?
Inbound marketing draws customers in using found content. Construction marketing inbound channels are blogs, social media, and search engine marketing.
What is construction marketing outbound?
Outbound marketing sends content to potential customers. Construction marketing outbound channels are direct mail, telemarketing, email marketing, print/online advertising, and trade shows.
Differences between construction inbound marketing and outbound
The differences between outbound and inbound marketing may be subtle, but it is necessary to understand them. As can be seen above, each uses different channels. However, that is not the only factor that separates them. The approach to the content in each is distinctive.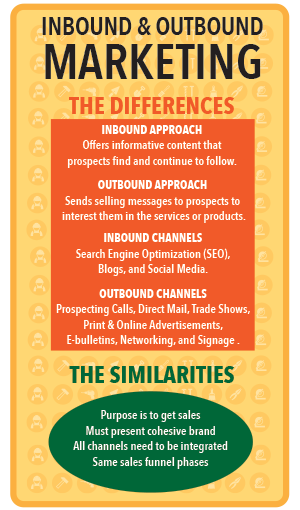 Outbound marketing's tact is to send info to prospects in hopes of interesting them in what you have to sell. It is important to realize that the message focuses on selling the benefits your service or product offers and distinguishing you from competitors.
Construction inbound marketing employs non-disruptive, educational or entertaining information that the prospect has to find. Because the content is informative, is "sells" you as an expert in your field that a prospect would want to hire. While the content is about informing, you should always include a call-to-action as you would in outbound material.
Similarities between construction inbound marketing and outbound
Since I brought up the need for both inbound and outbound marketing to use call-to-actions, I want to discuss a few other commonalities. First of all, the most obvious is that both strategies are meant to increase your sales. Otherwise, why spend the time and money to implement them? Beside the growth-focus of each program, there are other factors that they have in common, or at least they should:
Image uniformity
Just because outbound and inbound construction marketing employ different approaches in content, the company image they project must still be uniform. Your image should be the same no matter where it appears to present a professional and non-disjointed image of your brand.
Frequency
While outbound and inbound construction marketing have marketing in their name, they are really lead generation tactics. And frequency is an essential part of lead generation. Consequently, you need to develop programs for both that post or send content based on a set schedule, no matter the channel used.
Patience
If you read my blogs, you know I am honest about how quickly different lead generation channels work. But that won't stop me from telling you about it again. When you implement either inbound or outbound programs, you may get some quick response. However, the real payoff will come over time as the programs build momentum. This investment in creating awareness and relationships will result in higher sales growth as the campaigns continue.
You need a combination of inbound construction marketing and outbound
Although outbound marketing is considered antiquated by many marketers, I still see its effectiveness every day for our clients. From prospecting calls to trade shows, outbound lead generation channels are working for our clients. The number of leads gathered and the increase in website traffic every time the campaign is run proves this fact. Other than search engine marketing, inbound marketing can take longer to yield results. The prospects have to find your blog or social media platform and have to like the content you offer. Despite this slower return, it should be part of your overall program. Inbound marketing helps establish your expertise, as well as helping with Google ranking. Consequently, with outbound, your sales development plan will take longer to see gains.
Interconnection
The interconnectivity between all lead generation channels creates a cumulative effect that will make your overall program even stronger. Outbound marketing drives prospects to your inbound channels and inbound enhances your outbound efforts. When you utilize both strategies, you have the power of the two approaches to building your pipeline.
Sales funnel
While much is made of the differences between construction marketing outbound and inbound marketing, the sales funnel is the same. The traditional outbound funnel may use different terms for the phases, but in reality, that is the only distinction. Let's compare the basic phase sales funnels for each:
Inbound Phases Outbound Phases
One: Attraction Interest
Two: Action Engagement
Two: Conversion Sale
Two: Satisfaction Retention
Phase One in outbound and inbound construction marketing
Phase One involves a potential customer discovering your company. Whether either through a search leading to your website or a direct mailer, you have made the prospect aware of you. As a result, this prospective customer has the opportunity to learn about your services, products, and advantages.
Phase Two in outbound and inbound construction marketing
Phase Two turns a prospect into a qualified lead. At this point, contact needs to be made to determine if there is genuine interest on the part of the prospect. If there is interest, the lead needs to be nurtured into an opportunity for a sale.
Phase Three in outbound and inbound construction marketing
Phase Three is where you present your bid and provide a solution to meet the lead's construction requirements. Since the price is always high on the decision maker's mind, remember to review the benefits of selecting you over the competition. It can change a decision being made on the cost to one made on value. In fact, this action can change a decision being made on the cost to one made on value.
Phase Four in outbound and inbound construction marketing
Phase Four is the process of fulfilling your contract to the specifications it details. A project completed as promised is key. However, it is easy to overlook that communication, responsiveness, and follow-up are just as important as the actual building in satisfying the customer. You need to keep in contact with customers after the project is completed because it can result in repeat business or create a referral source for new sales.
Combining construction inbound marketing and outbound marketing
Since the sales funnel or process are unique in their approach but with the fundamentally same goal, why wouldn't you take advantage of both strategies? In fact, the more tactics you can employ in the marketing war to win more contracts, the better. When both inbound and outbound are working, your pipeline will be full of potential projects to yield long-term growth.
About the Author
Paul Kowalski (or Pappy as he is called around the office) spent over two decades working at other agencies before opening Conach Marketing Group in 2008. The early part of his career was working with Fortune 500 clients at different agencies. However, working with smaller clients was his preference. This choice was because of the impact on a client's business growth and forming closer, personal relationships.
About Conach
When he was creating Conach, his goal was to bring those Fortune 500 strategies along with years of B2B marketing experience to small business marketing clients. As a result of focusing on business to business marketing, Conach specializes in construction marketing, financial marketing, and industrial marketing. Even though we are in Mid-Michigan, Conach provides marketing services to clients across the country.
For more information visit conachmarketing.com or contact us or call 989.401.3202.