The key points of lead generation for financial marketing
Lead generation is challenging in any B2B marketing strategy. However, it can be especially tricky in financial marketing lead generation. In this blog, I will cover the key points to understand when developing a financial lead generation program.
The types of lead generation for financial marketing
One: Awareness
Awareness lead generation, or advertising, broadcasts your message to a large geographic area to a non-qualified group. Therefore, the goal of this form of lead generation is to strengthen brand recognition. In financial marketing, it works well to create local awareness with potential business-to-business clients and business-to-consumer tax customers. However, you must choose the channels wisely. Here are the awareness channels you could consider:
Outdoor channels – billboards or displays
Social media channels – LinkedIn, Facebook, Twitter, and Instagram
Signage channels – office signs
Publication channels – local newspaper and magazines
Broadcast channels – local radio and television
Two: Target
Comparatively, the difference between awareness and target advertising is the narrowing of focus. To explain, target lead generation sends your brand and message to potential customers that are known to be interested in your services. When strategizing on which markets to target, consider your team's expertise. For example, you may have staff that has a great deal of experience in non-profit or farming. Hence, you would select those markets to focus your campaign. The following are target advertising channels:
Trade publications – print and online magazines with an audience that matches your target market
Search engine optimization – the strategy of your website construction and its keywords
Networking channels – local organizations, committees, and events
Social media channels – LinkedIn, Facebook, Twitter, and Instagram tools to target demographics
Three: Direct
Simply put, direct lead generation is one-to-one. These channels reach out to potential customers on an individual basis. As a result, these channels are the easiest to track results and yield a higher response. Direct lead generation channels are:
Prospecting calls – to target markets
Direct mail – to qualified prospects
Trade shows and events – to speak to attendees
E-bulletins – to prospects
Financial marketing lead generation tactics
Even though I have identified the various advertising channels, they are not all equal in effectiveness regarding financial marketing lead generation. Consequently, I think it's essential to review the channels I have found work best.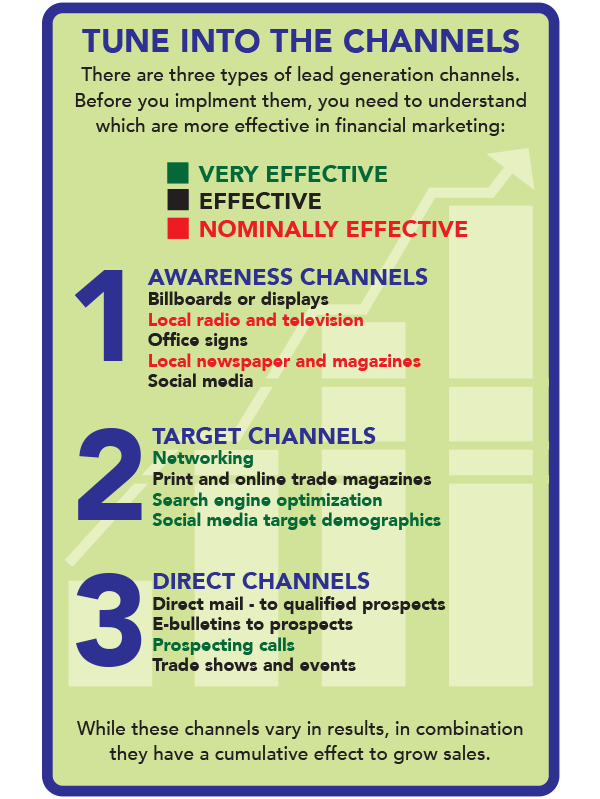 Financial marketing lead generation awareness tactics
In general, use outdoor advertising to promote a significant anniversary or charity event. Through this channel, you can let the community the length of your experience or shown your community involvement. Office signage builds your brand, especially when it's in a high traffic area.
Local business publications, radio, and television can spread your brand and message to target markets. However, these channels are long term, top-of-the-mind strategies. Because of this reason, you shouldn't expect immediate results.
Financial marketing lead generation target tactics
It is importnat to realize that to have your website be useful as a sales tool, search engine optimization (SEO) is critical. For this reason, you will need to know and follow Google's guidelines for your website to rank well.
Networking is an excellent way to find clientele. Accordingly, you can network by sitting on a committee, joining a charity organization, or going to chamber of commerce events, you create local goodwill and find prospects.
While social media can be an awareness channel, it can also be a target one. Using demographic tools, social media channels offer can target markets to grow sales. With this in mind, social media is an awareness channel without the use of demographics.
Financial marketing lead generation direct tactics
As archaic as you might think they are, targeting markets through phone calls still work. When you select your most profitable markets, prospecting campaigns uncover immediate opportunities while increasing awareness.
As a result of the call campaign, you will develop a list of prospects with interest in your services. Moreover, you can keep in touch with them through quarterly direct mail campaign and e-bulletins. These channels keep you in front of potential clients and drive visitors to your website.
A trade show should focus on your target markets. When planning to attend, determine the best way to bring attendees to your booth. Rather than hoping people visit your dispay, run a contest or have items to give away. Because of this activity, you have a better chance of people visiting your display.
Combining the channels in financial marketing lead generation
Of course, the channels you choose depends on your budget. My recommendation is to start with direct, then target, and finally, awareness lead generation. This strategy will produce quicker sales and income.
About the Author
Paul Kowalski (or Pappy as he is called around the office) spent over two decades working at other agencies before opening Conach Marketing Group in 2008. The early part of his career was working with Fortune 500 clients at different agencies. However, working with smaller clients was his preference. This choice was because of the impact on a client's business growth and forming closer, personal relationships.
About Conach
When he was creating Conach, his goal was to bring those Fortune 500 strategies along with years of B2B marketing experience to small business marketing clients. As a result of focusing on business to business marketing, Conach specializes in construction marketing, financial marketing, and industrial marketing. Even though we are in Mid-Michigan, Conach provides marketing services to clients across the country.
For more information, visit conachmarketing.com or contact us or call 989.401.3202.